Thanks to your purchase of "The Three Miracles", some cool things are happening. Read on!

The Three Miracles is a true story about the Mulligan family, one that'll make you laugh AND cry. ALL proceeds go to charity, including Castaway Kids, along with Outreach For World Hope and other worthy organizations providing help to the poorest of the poor. Order it on Amazon, download it for just $10 on Kindle, OR, an extra $4 goes to charity just by ordering HERE

Here's just the latest example of how your book purchases and donations have helped!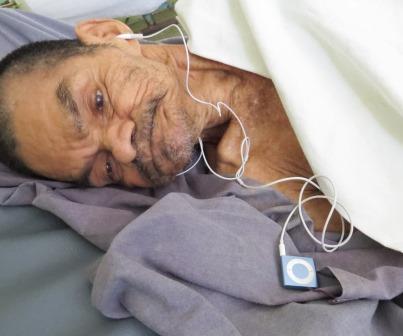 March 30, 2016 A recent "Outreach For World Hope" group mission trip of Mulligan Castaways led us to the bedside of a mute man in Guatemala. He was brought to the hospital 15 years ago after being hit by a car, with no way to communicate with doctors or nurses.
Though hospital staff named him "Leonardo", to this day nobody knows where he came from or anything about him. He just lays in bed, day after day, week after week, year after year, staring at the ceiling with little human contact, not even a TV or radio, pretty much ignored.
It's why Leonardo was so thrilled when we simply spent time with him. He clapped his hands loudly and tried his best to communicate, struggling in vain to form words that came out as only as garbled, unintelligible syllables and noises. He grabbed my hand and held it close to his heart as we talked with him and prayed by his bedside, and clutched it even harder when it was time for us to go.
I can only imagine what it's like to be unable to ever share a thought or tell anyone on this earth how you feel. It's something I get to do for a living and to be honest, something I take for granted every day of my life. The same way I take so many things for granted, like the ability to walk, hear, see, spend time with people I love....the list goes on.
We promised Leonardo he would not be forgotten. After returning from Guatemala, while talking about him at one of my shows, my friend Millie offered to send him down an MP3 player, which Elsa filled with her favorite Spanish language Christian songs along with some other stuff she thought he'd enjoy. A month or so later, here's the response we got back from James, the OWH volunteer who personally delivered it to Leonardo.
"I was at the hospital this morning with various errands and brought the MP3 player with me to give. However, the first nurses I talked to told me Leonardo was mute and deaf and that I couldn't give it. I insisted, saying let's let him listen. At first he pulled the earbuds out and put them in his mouth. But then he got used to it and started responding to the music. The second nurse was very surprised at how responsive he was, lifting his hands up and moving his fingers together as if he were playing maracas. So what we do know for sure is that he does hear and really appreciates the gift. I told him it was from you, that you had come to pray with him and are still praying for him. In Jesus, James
Thank you Millie for a small gift that made a huge difference, to James and Outreach For World Hope, and to my friends who had the courage to pray bedside with strangers they had never met in a foreign land. Some were children with only days, weeks or months to live. Others were parents watching their malnourished children suffer, unable to provide relief. Others were adults like "Leonardo", lonely and forgotten, somehow enriched by just knowing someone cares enough to remember them, whether that be in prayer or with a small act of love.
This is why you are my kind of people. Mark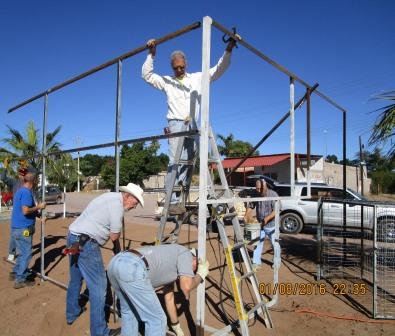 It started like this, and thanks to the hardworking volunteers above...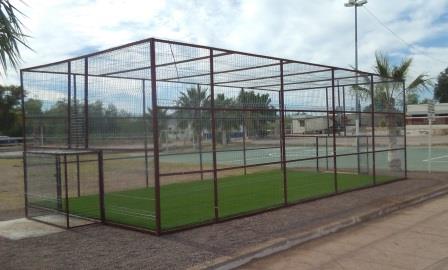 It ended like this! A mini soccer field, now used every day after school by children in the rural Mexican community of San Jose de Guaymas. We've since added a basketball hoop, a volleyball net, tetherball, and more. Next...a complete outdoor park system, donated by the City of Mesa AZ!
Stay up to date by adding your name to Mark's email list.