TRIP TO BANAMICHI March 2-4!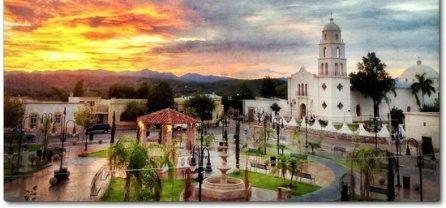 Such a fun trip! Join our caravan leaving from San Carlos, stopping for lunch in Ures at Restaurant La Ramada de Dona Loly for great Mexican food. And just before getting to Banamichi, some of us will even stop for a dip in the little Agua Caliente "hot spring" pool near Aconchi!
Once in Banamichi, Hotel La Posada del Rio Sonora will have margaritas available at their rooftop bar. Save your appetite 'cause after that, while I sing, Hotel Los Arcos de Sonora will offer us wood fired adobe oven pizza, with salad, happy hour snacks and soft drinks, just 200 pesos! NO BAR TAB, it's BYOB!
Tuesday? We'll take a FUN trip to a rustic nearby ranch for a hands-on demo on producing "bacanora" (w/samples of course!), roasting cowboy coffee and making giant flour tortillas. Then, we'll enjoy a HUGE buffet of ranch-cooked tamales and Mexican food. It was THE highlight of last trip, just 400 pesos! (BYOB, with coolers, ice and soda provided for you, and ranch-made bacanora available for purchase.)
That evening at Posada del Rio Sonora we'll once again enjoy rooftop drinks and sunset, and the restaurant below will offer dinner. Hotel Los Arcos will be open for dinner too, and BOTH hotels offer great breakfasts!
There's also some beautiful mission churches you can visit on your way back!
DISTANCE? Just over 4 hours from San Carlos
FOREIGN VEHICLES? There are NO car permit checkpoints between Banamichi and Hermosillo, and every day American plated vehicles take tourists to our host hotels. Leading the caravan, I'll provide each driver (or carpool) with my cell # so we all arrive with no problem.
COST OF THE TRIP? Simply book your own room and pay for your meals, drinks and tips! The ranch trip and buffet (400 pesos) is optional
LODGING? Your choice of two GREAT American owned hotels include La Posada del Rio Sonora   623 231-0259 & Hotel Los Arcos de Sonora
Tell them you are with our group, and once reserved, email mexicomark@hotmail.com to get trip updates/itineraries, etc. Don't miss out on this really fun trip!
Add your name to Mark's email list.